Cooling & Humidification for Growing & Propagation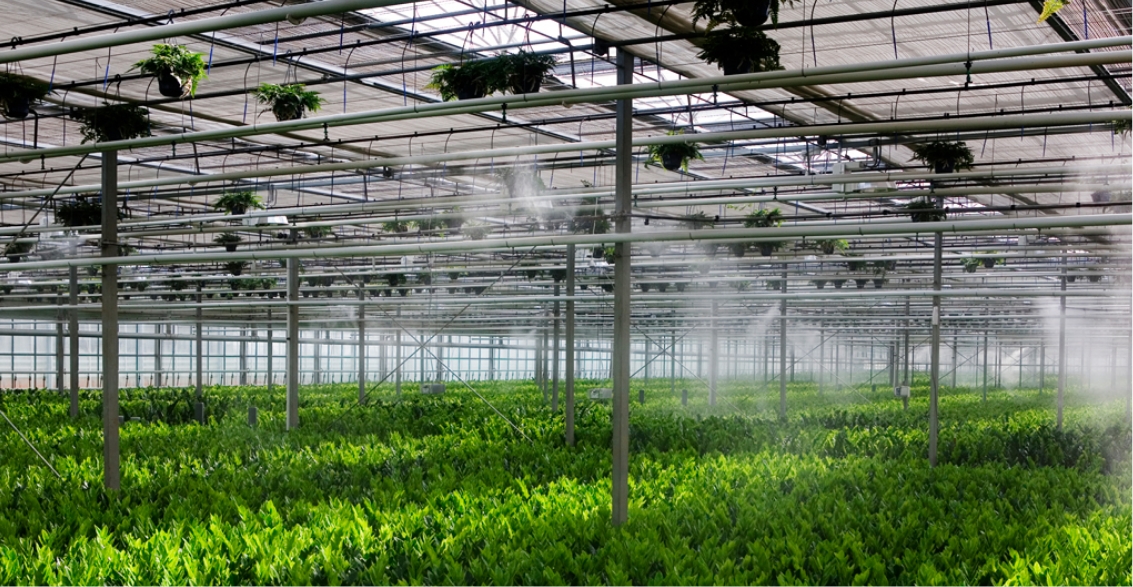 Humidification systems maintain proper vapor pressure deficit for crops to create the perfect growing environment in your greenhouse.
Fog cooling systems enhance greenhouse environments for any sort of cultivation, using  evaporative coolers creates an efficient growing area.
Benefits:
• Bedding plants – 30% more production.
• Cut flowers – Larger flowers and brighter colors,
• Propagation areas – 50%-200% more production.
• Tissue culture – Test-tube environment.
 MeeFog In-Space Installation Diagram
Click the different areas of the diagram below to learn more information about our system.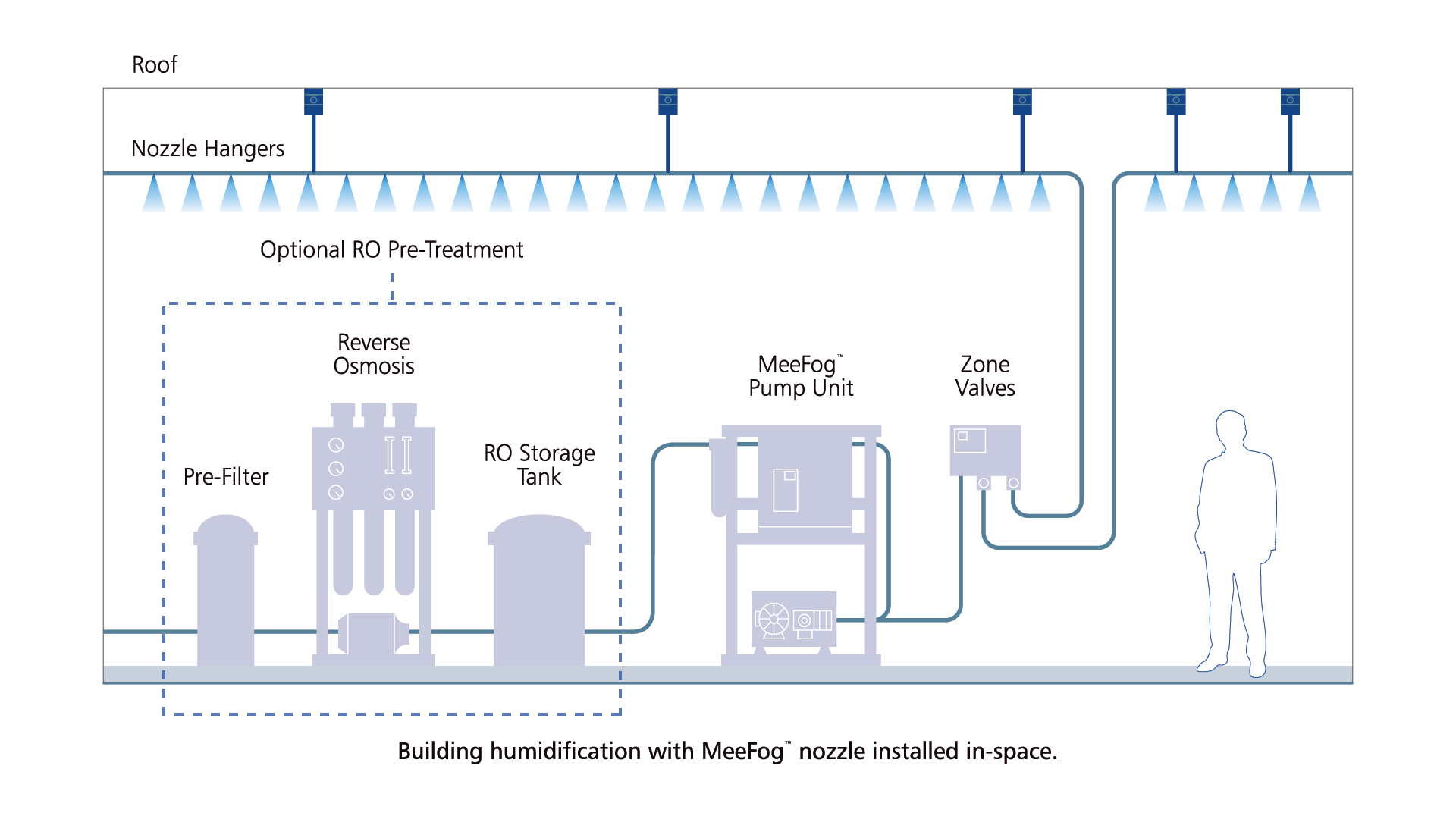 Water Pre-Treatment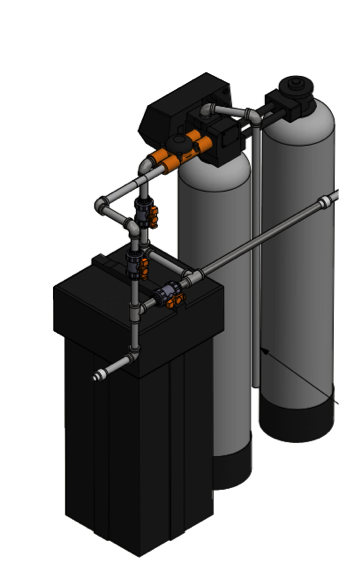 Water Pre-Treatment
Basic water treatment, namely, a water softener is required for mineral removal. Based on dust-free requirements for the space additional components including reverse osmosis with automated membrane flushing and pre-treatment filtration can be added. 
MeeFog Pump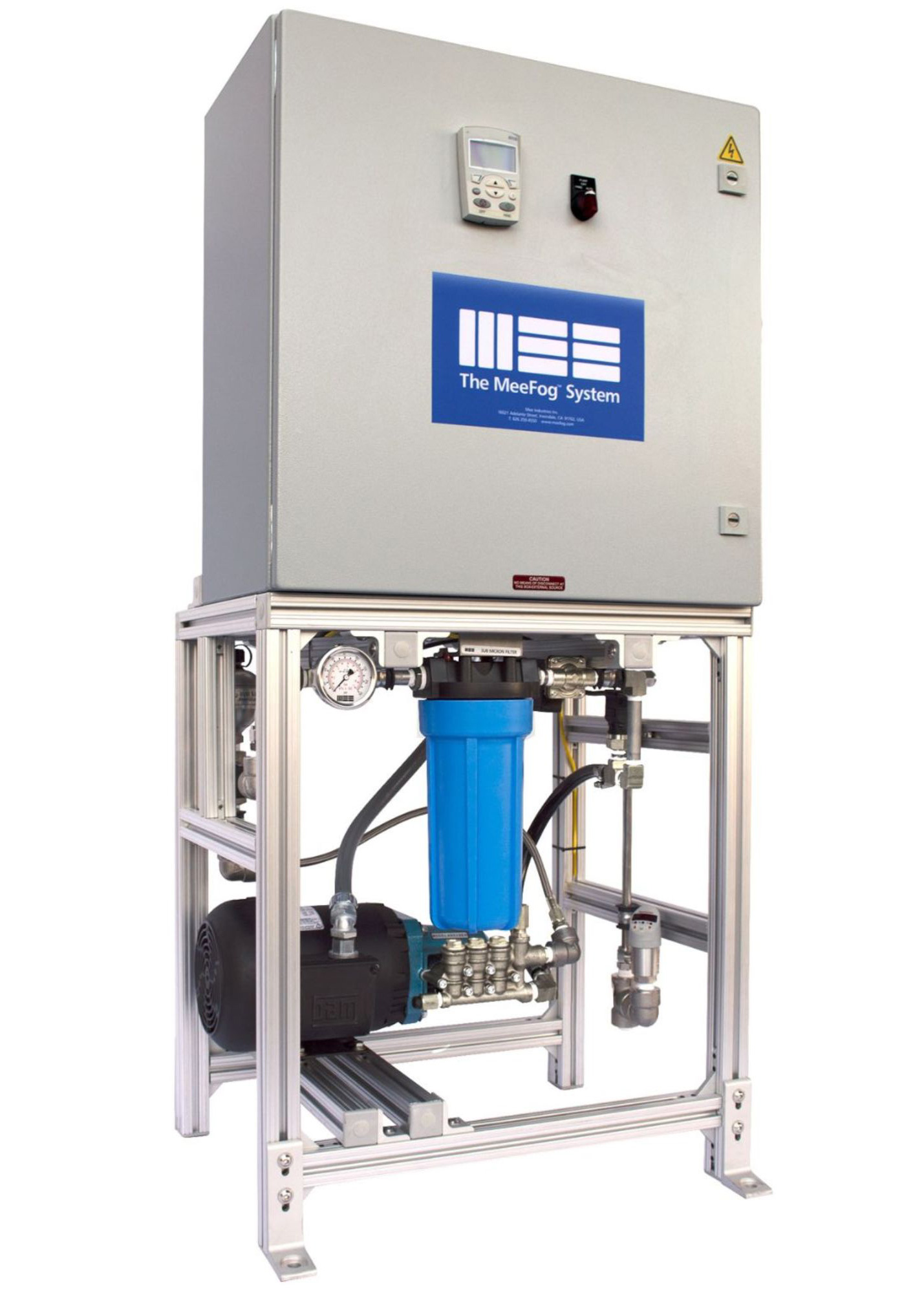 MeeFog Pump
The high-pressure pump maintains 1000 psi water pressure in order to atomize the water into tiny droplets that can evaporate overhead. The pump rack has a VFD with panel-mounted controller that maintains pressure when zone valves open and close.
Zone Valve Panel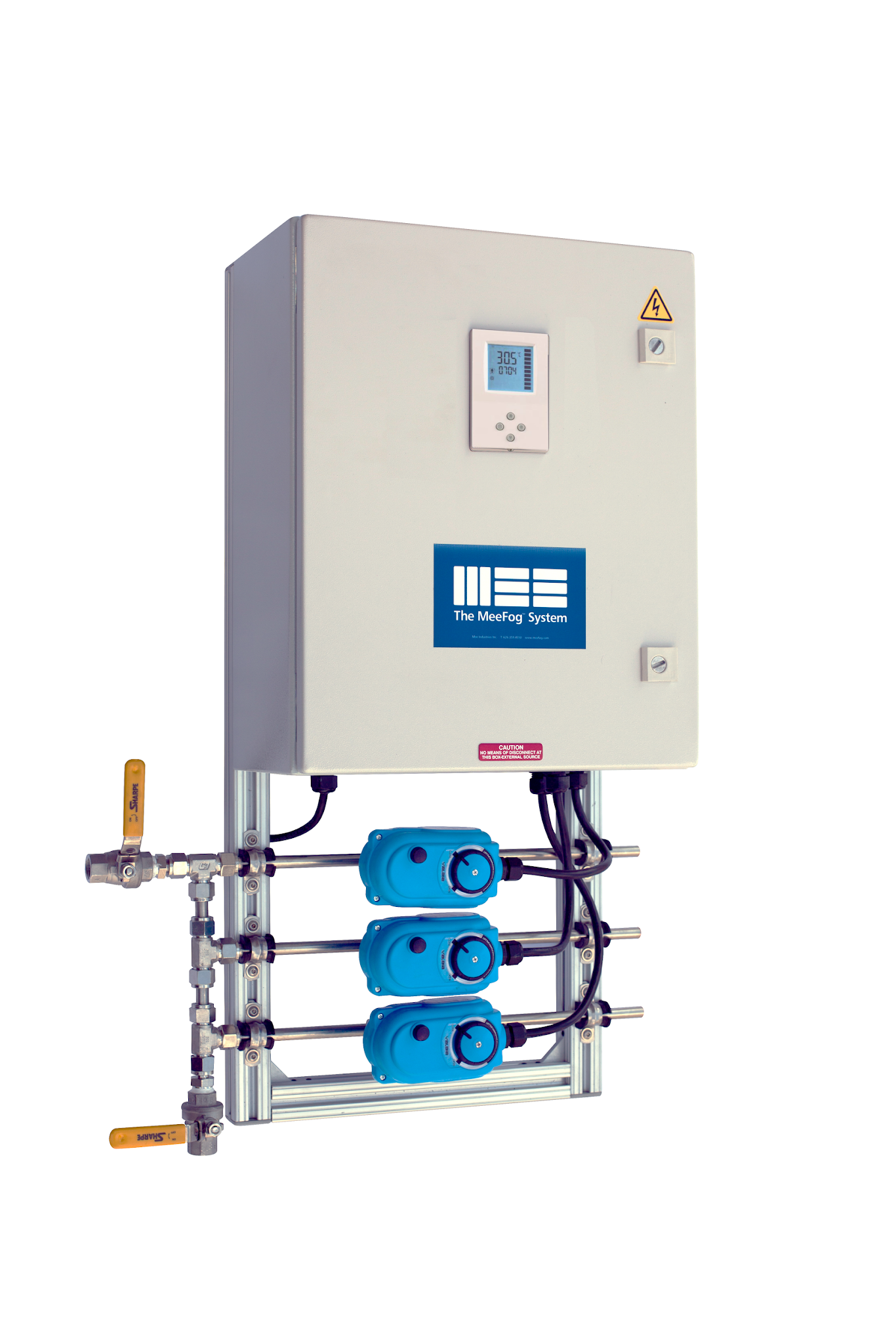 Zone Valve Panel
The MeeFog Zone Valve Panel provides control for up to five fogging zones. It can use an on-board humidity sensor or signal from other controllers to actuate ball valves that are slow acting to eliminate water hammer.
Swirl Jet Nozzles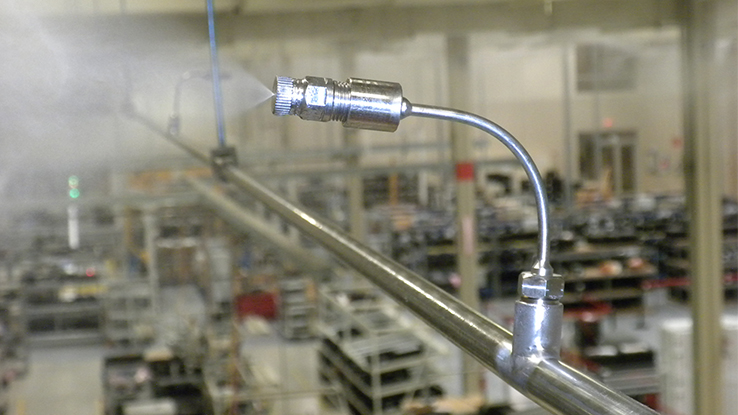 Swirl Jet Nozzles
The MeeFog Swirl Jet nozzles are stainless steel with a .006" orifice and output 7 lbs. per hour of fog. Fog nozzles mounted on stainless steel tubing can be spaced one per 200 square feet or denser for areas with open bay doors or in need of higher humidity.
System Overview
Nozzle Comparison
MeeFog System Benefits
Bedding plants – 30% more production.
Cut flowers – Larger flowers and brighter colors.
Propagation areas – 50%-200% more production.
Tissue culture – Test-tube environment.
Low energy consumption.
Easy to service and maintain.
Ultra-fine fog droplets.
Stainless steel construction.
Flexible and easy to retrofit.
Droplet Comparison
Want Proof?
We'll gladly supply a detailed payback analysis report for your existing Greenhouse including:
Installed MeeFog system cost.
Predicted process expenses per year.
Featured Case Study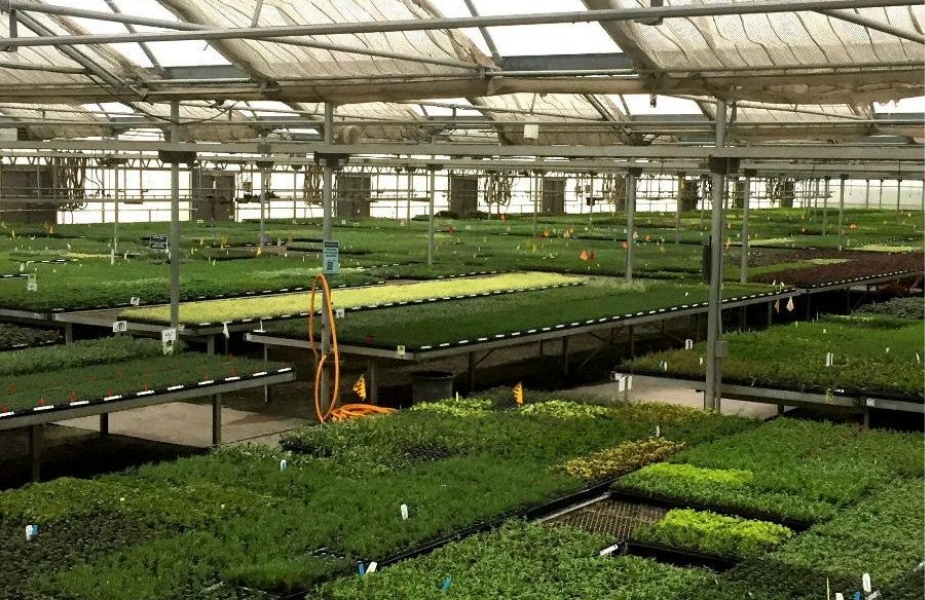 Takao Nursery
MeeFog System Creates the Perfect Growing Environment
The Challenge:
Summer temperatures in Fresno are often over 100°F. Takao Nursery needed to control humidity and temperature in order to have a successful greenhouse propagation business.
The Solution:
Takao installed a MeeFog system to provide uniform cooling and humidification over their propagation beds. They are able to meet customer demand by supplying consistently high quality plants with faster turnover rates.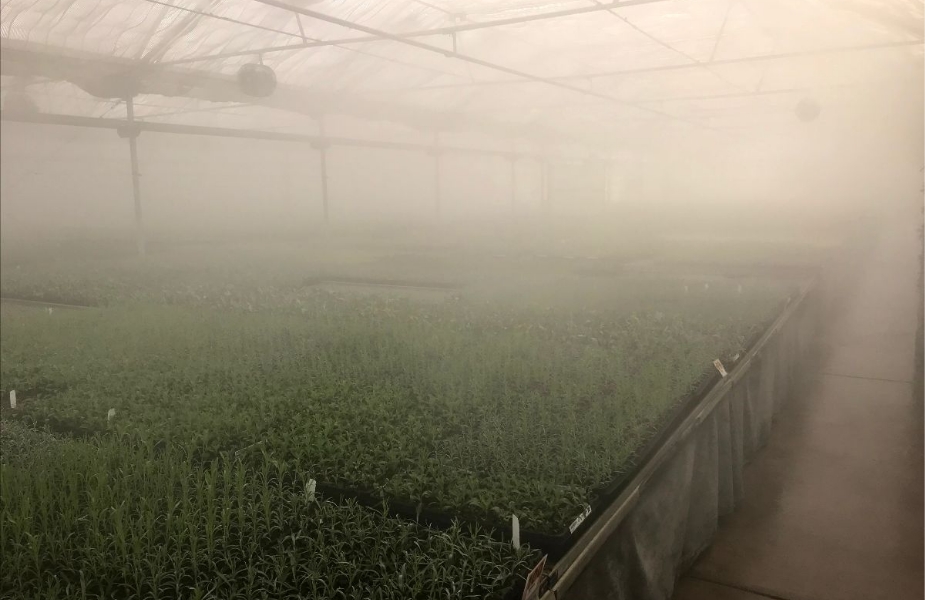 Howard and Fumiko Takao started a landscape company. In 1960 the company evolved into Takao Nursery, a wholesale groundcover nursery in Torrance, California. The business kept growing and was relocated to Fresno, California by 1979. They installed the first MeeFog system in their nursery in 1985 and that system is still operational today.
MeeFog Nozzle
Each MeeFog impaction-pin nozzle is made from high-grade stainless steel. The standard nozzle features a 0.006 inch (150 micrometer) diameter orifice which produces billions of ultra-fine droplets per second. At an operating pressure of 2000 psi, the average droplet size is below 10 micrometers, or one tenth the diameter of a single strand of human hair. The resulting fog provides fast evaporation and amazing special effects.
Features:
High-grade, precision-machined type 316 stainless steel construction.
Super smooth orifice, low-pressure drop, 98% efficiency.
Cylinder type filter with radius end for efficient nozzle operation.
1/8″ NPT tapered fitting.
O-Ring seal at the base of the nozzle.
Other Case Studies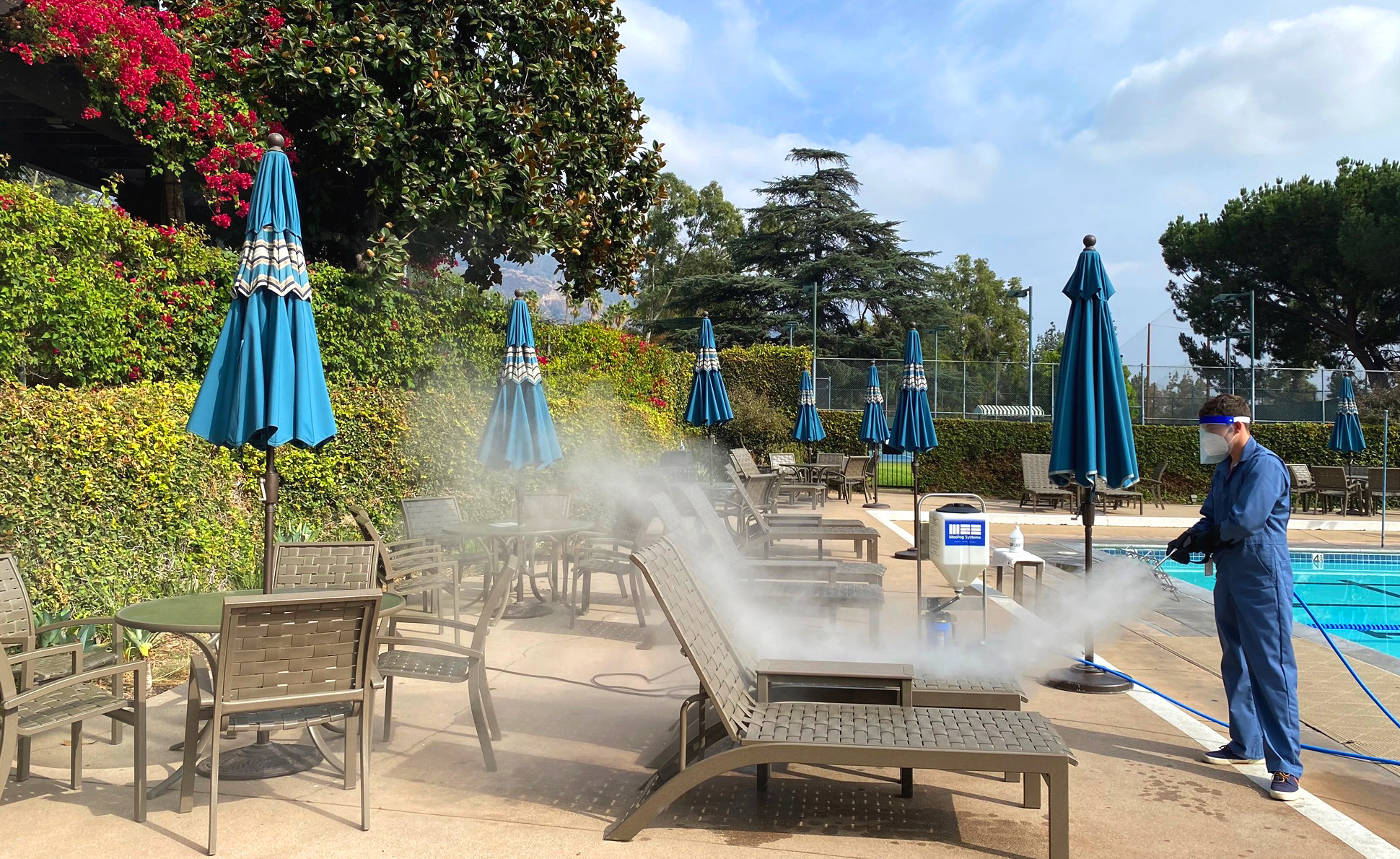 Greenhouse cooling and humidification systems facilitate seedling development and healthy plant growth by generating...