Central Humidifier Supplies Diverse Humidity Loads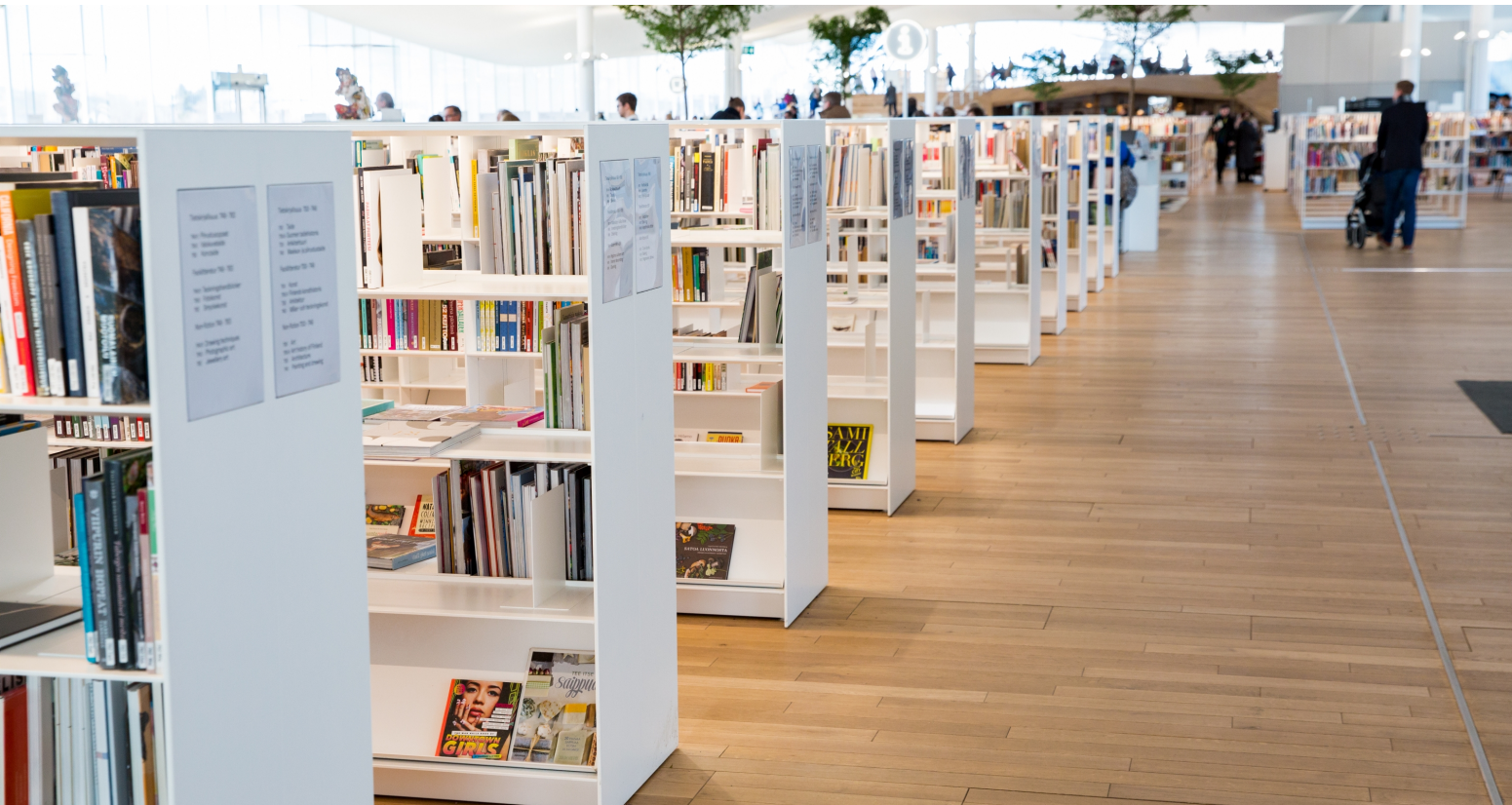 Universities require the ability to supply proper levels of humidity to a wide range of climate zones. In a University setting labs require the most load in order to exhaust all of the air, classrooms and common areas will have separate requirements.
MeeFog uses a central pumping unit that supplies multiple air handlers and is an energy efficient solution. Each rack includes a programmable logic controller (PLC) which allows the system to operate safely in automatic mode using the building control system.
Unlike steam systems, there are no calcification issues, no elements to burn out, no floats to get fouled, and no bubble indicators. Fog system maintenance requires only oil changes and filter checks. Meefog humidification systems use substantially less energy than other humidification technologies, including compressed air, ultrasonic, and especially steam systems.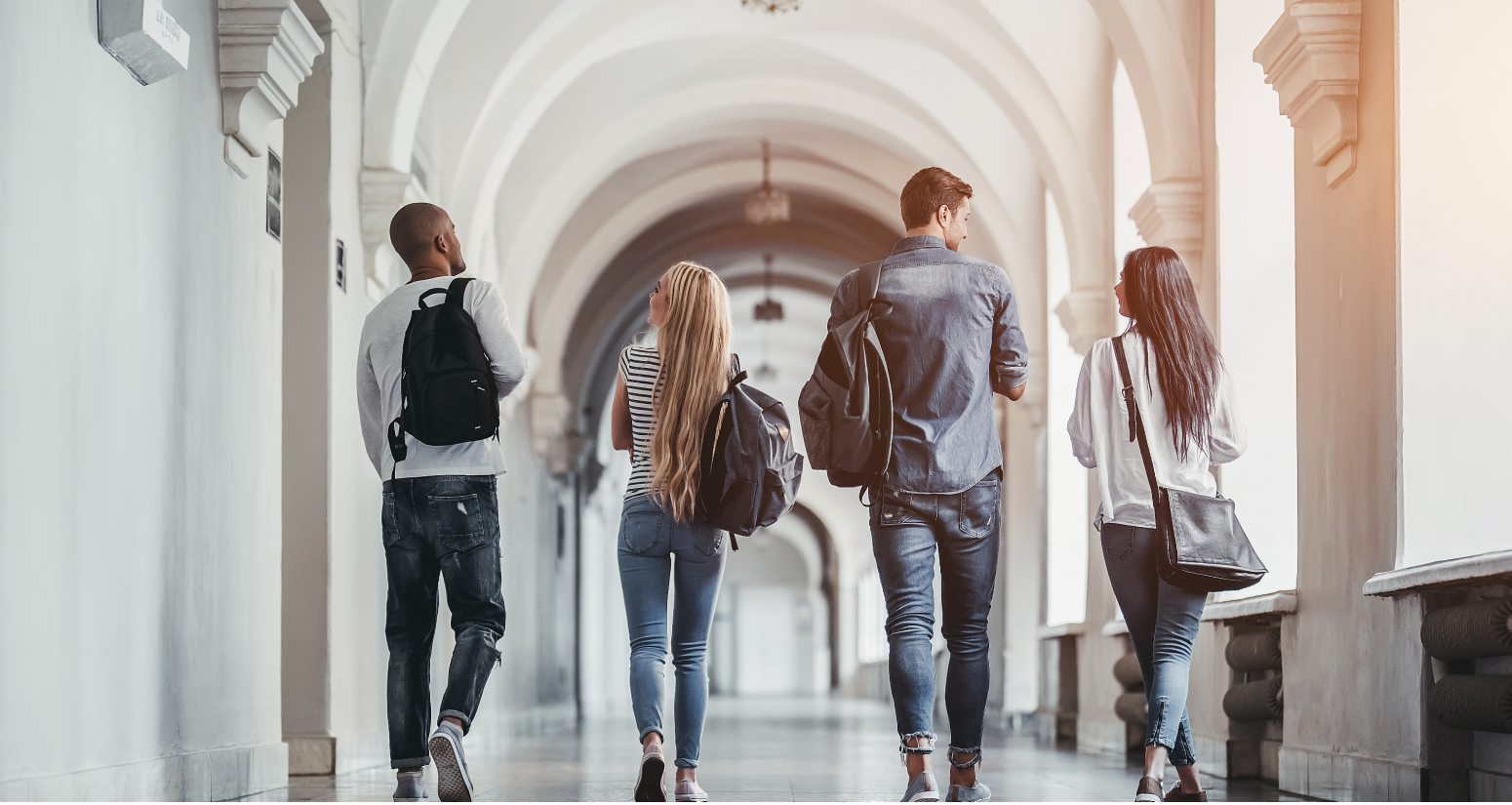 Benefits:
Reduced energy consumption.
Lower maintenance costs.
To find out more about how the system can work for you, contact a MeeFog sales engineer.
MeeFog HVAC Installation Diagram
Click the different areas of the diagram below to learn more information about our system.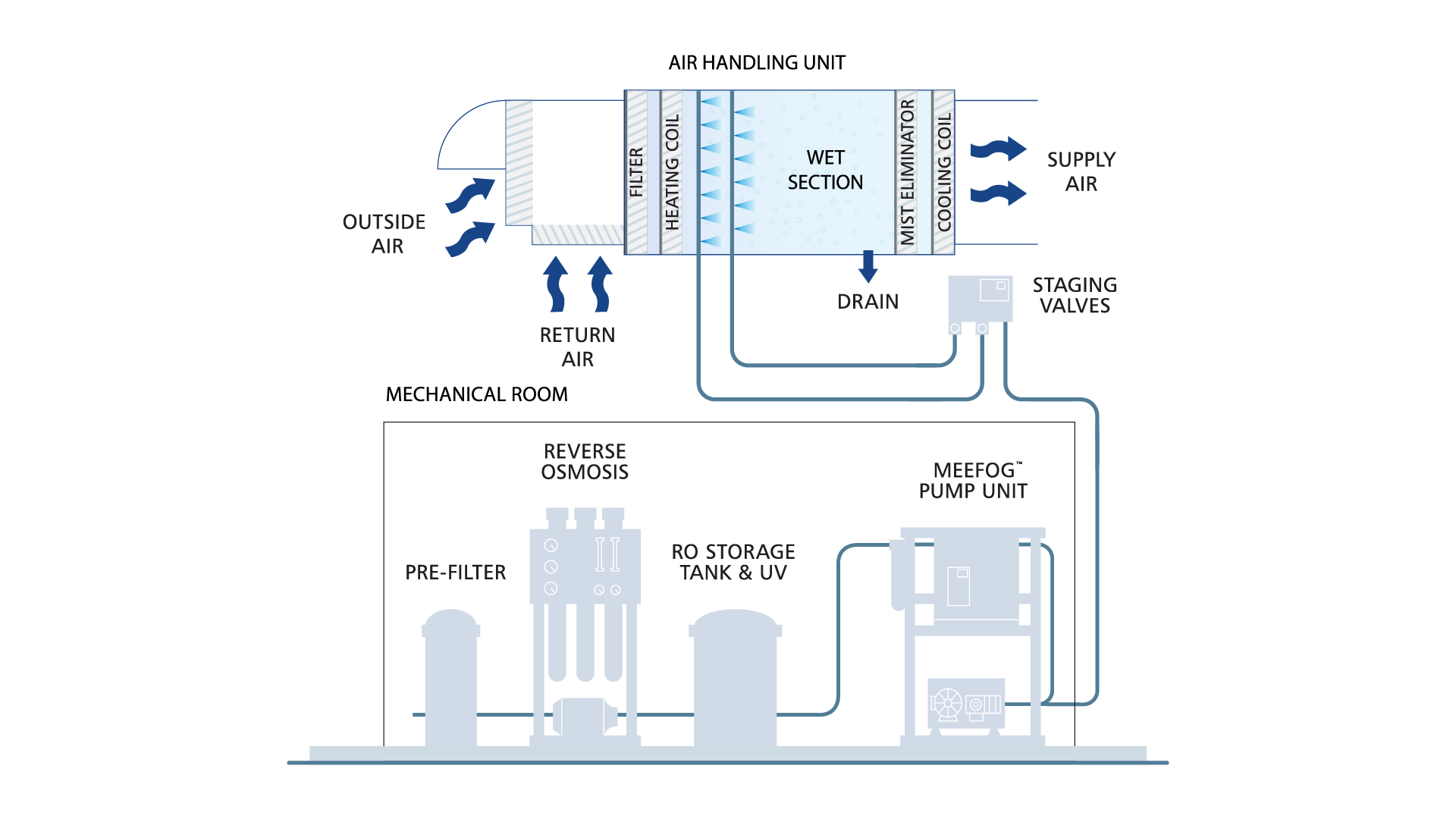 Reverse Osmosis Water Purification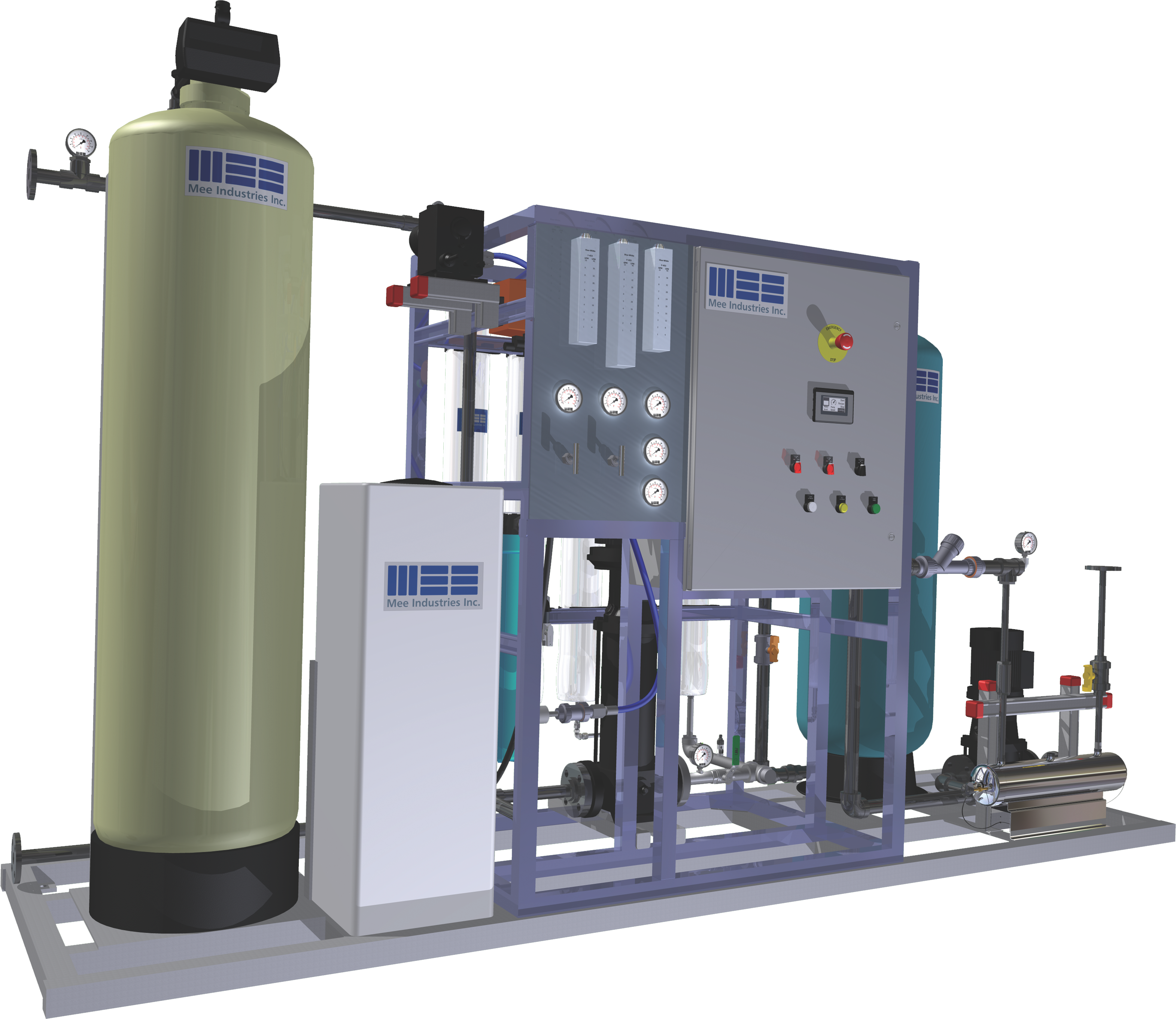 Reverse Osmosis Water Purification
City water is treated using the Reverse Osmosis water treatment rack. This purifies the water, removing minerals, particulate, and microorganisms. Systems include automated membrane flushing, pre-treatment filtration, and UV Re-Circulation.
MeeFog Pump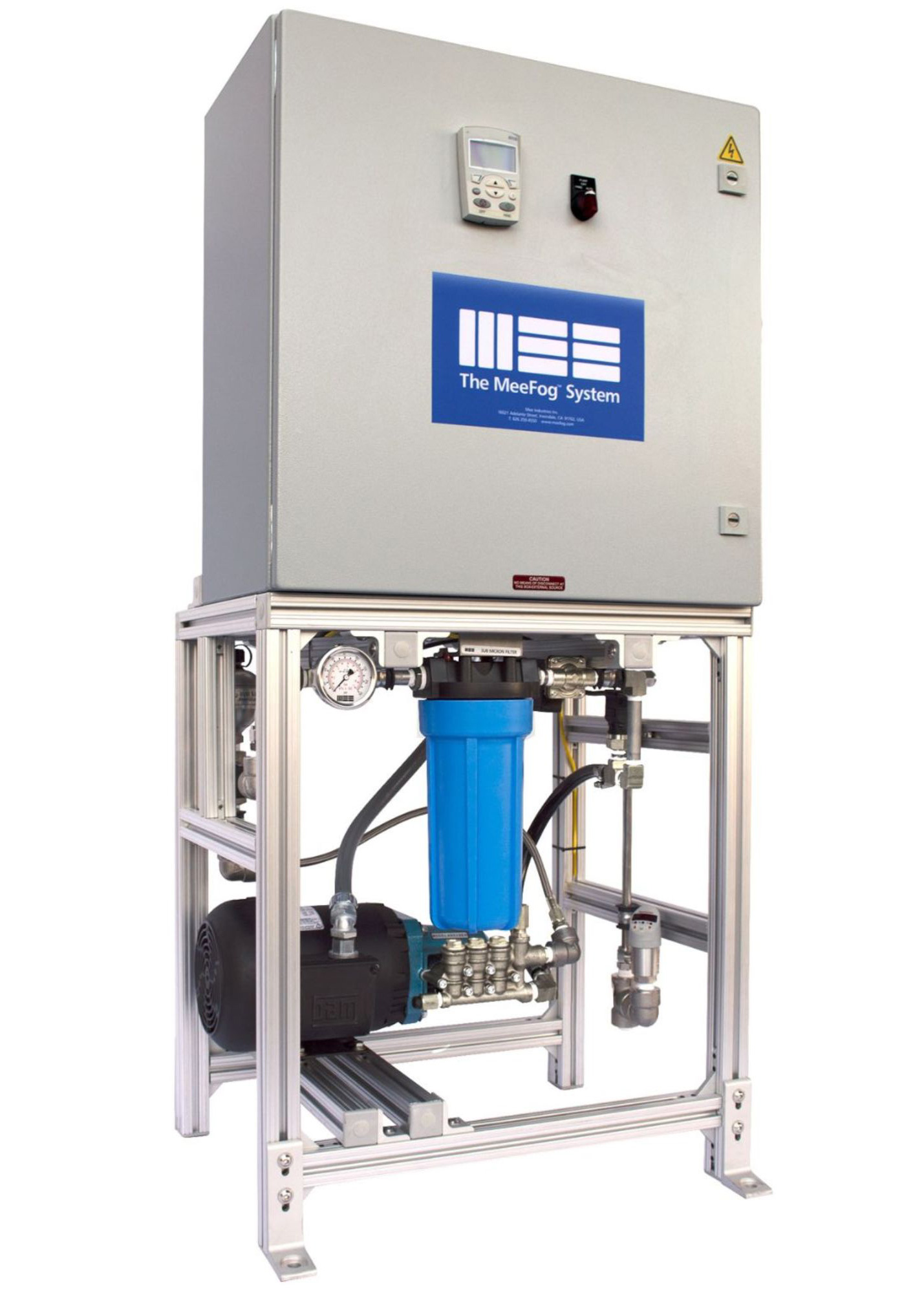 MeeFog Pump

The high-pressure pump maintains 1000 psi water pressure in order to atomize the water into tiny droplets that can evaporate into the air stream. The pump rack has a VFD with panel-mounted controller that maintains pressure when staging valves open and close.
Staging Valves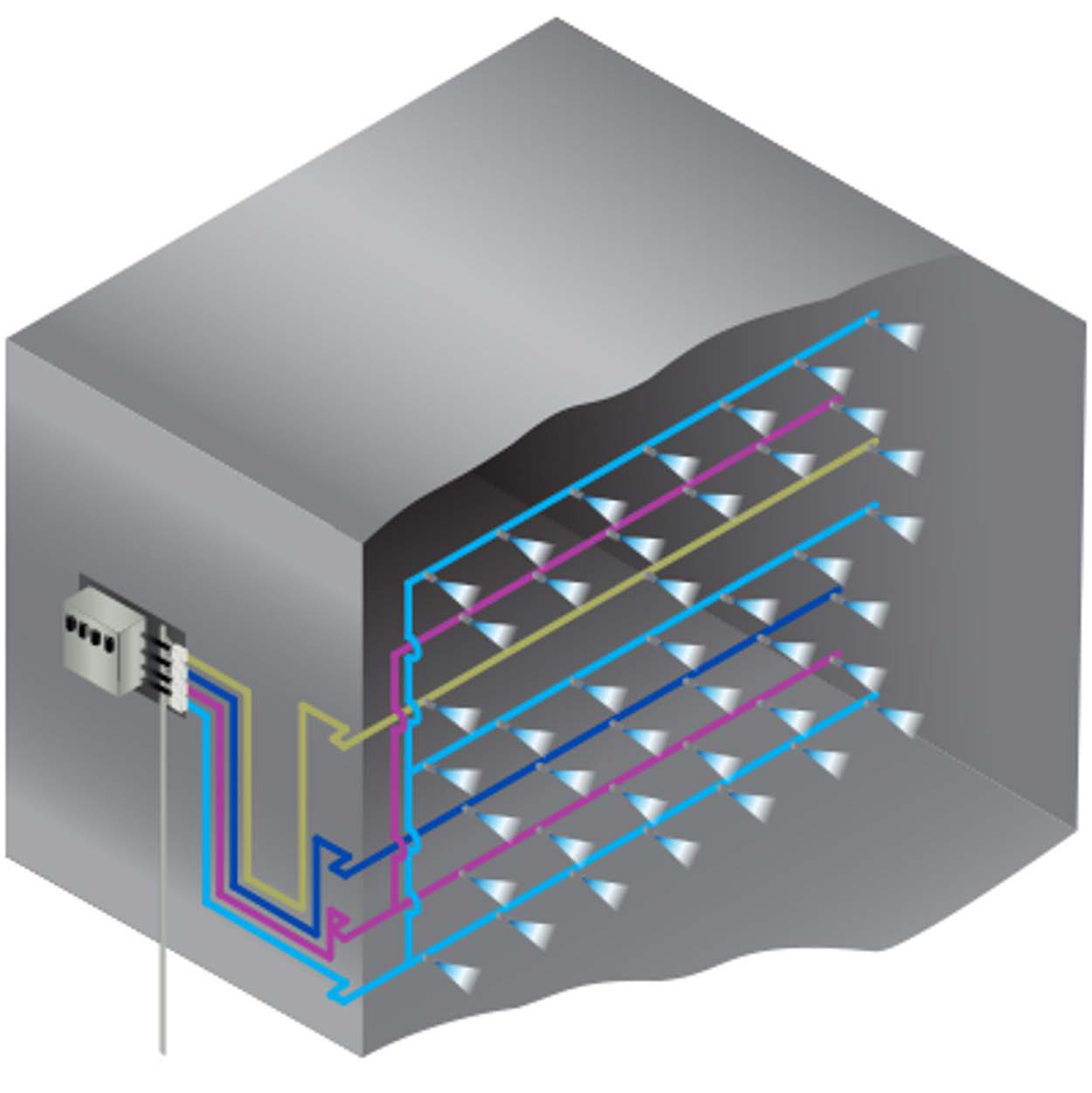 Staging Valves
The valve panel allows precise control over how much humidification is injected into the air stream based on a signal from the BMS. It is possible to control the humidification level in the space to plus or minus 1% RH.
Nozzle Manifolds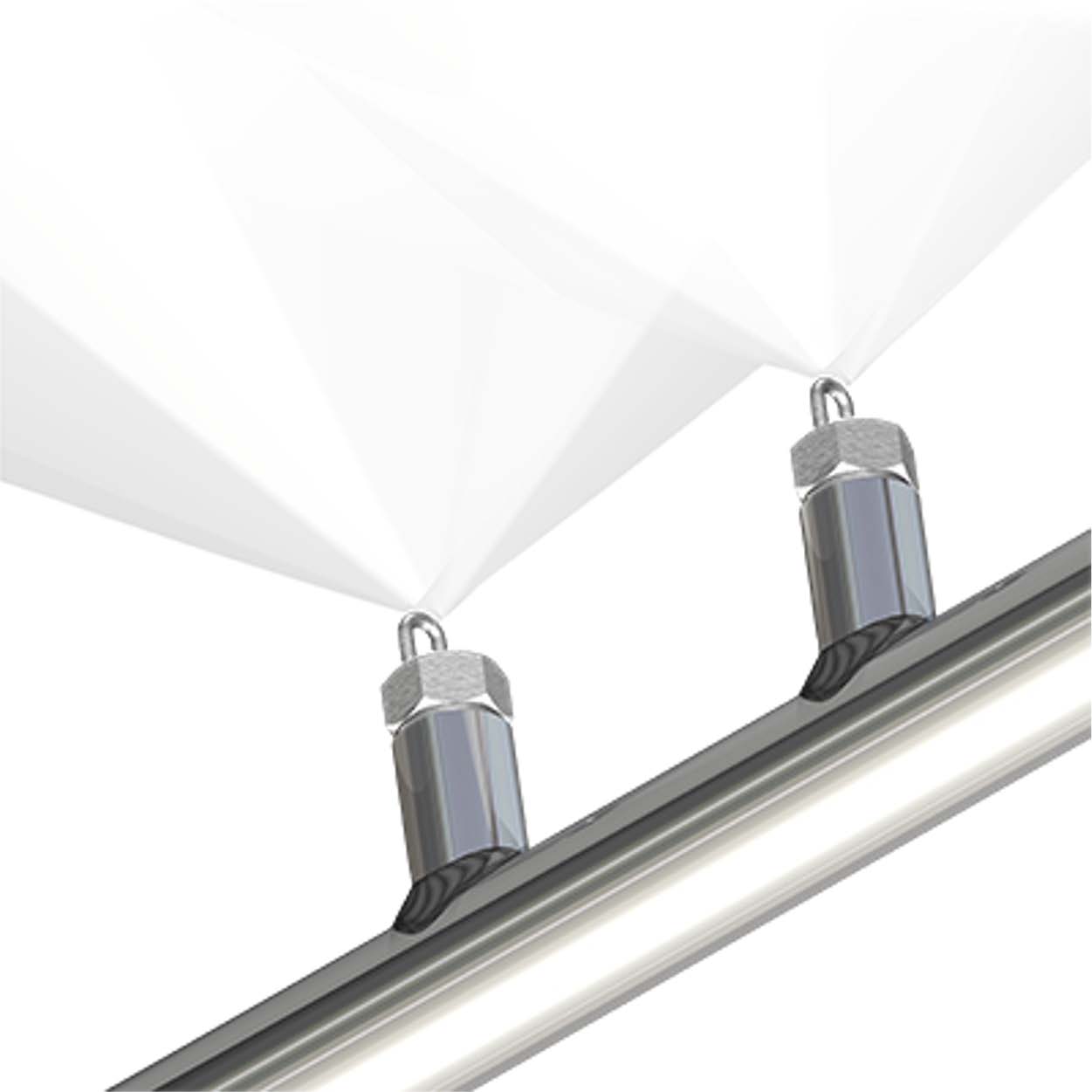 Nozzle Manifolds
Fog nozzles are mounted on stainless steel tubing inside the air handler. These nozzles produce droplets in the 10-micron range. These precision nozzles are manufactured and tested in Mee Industries' own facility.
Mist Eliminator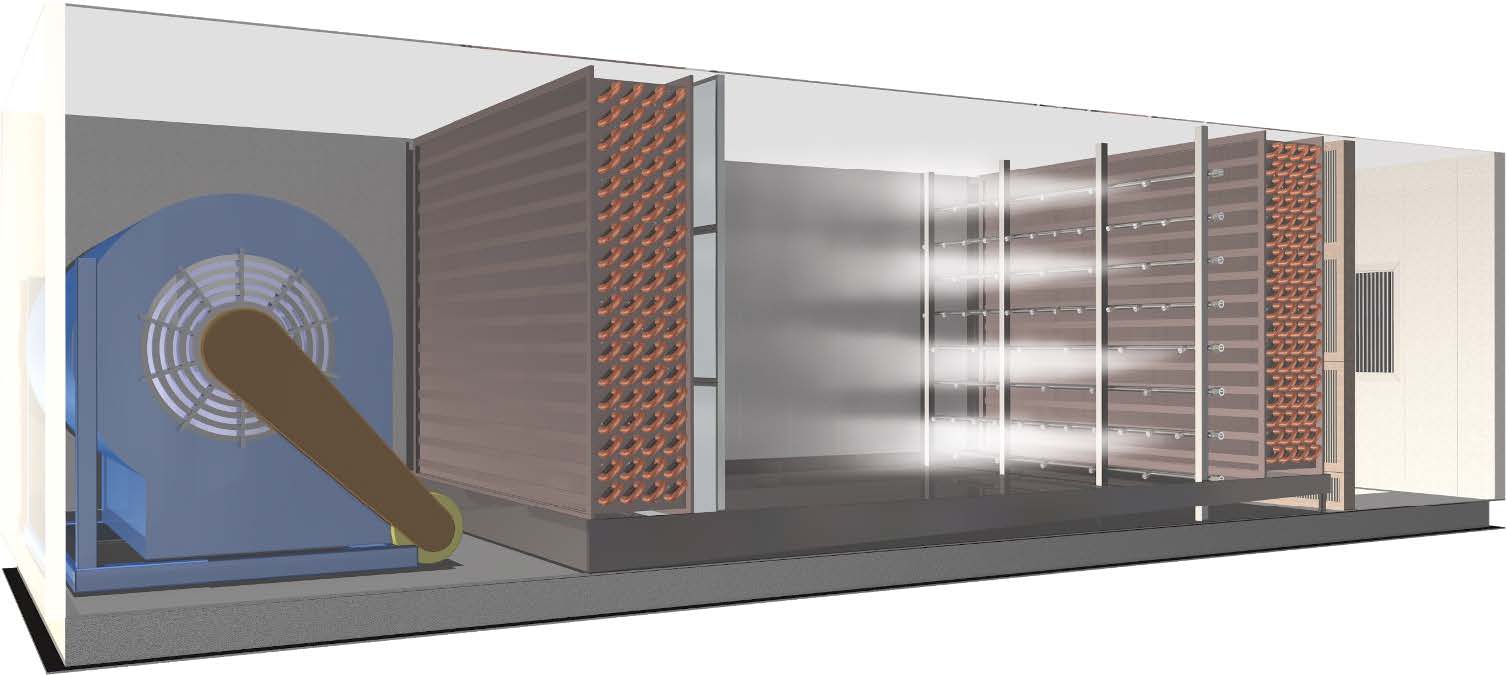 Mist Eliminator
The mist eliminator removes water droplets larger than 5 microns. The filter pads can come off their stainless steel frames and can be washed or replaced easily.
System Overview
Nozzle Comparison
MeeFog System Benefits
Evenly distributed humidification.
Increased reliability.
Reduced energy costs.
Does not require compressed air or steam.
Reduces electrostatic shock.
Low energy consumption.
Precise humidity level control.
Droplet Comparison
Want Proof?
We'll gladly supply a detailed payback analysis report for your Hospital or Medical Center including:
Installed MeeFog system cost.
Predicted process gains per year.
Featured Case Study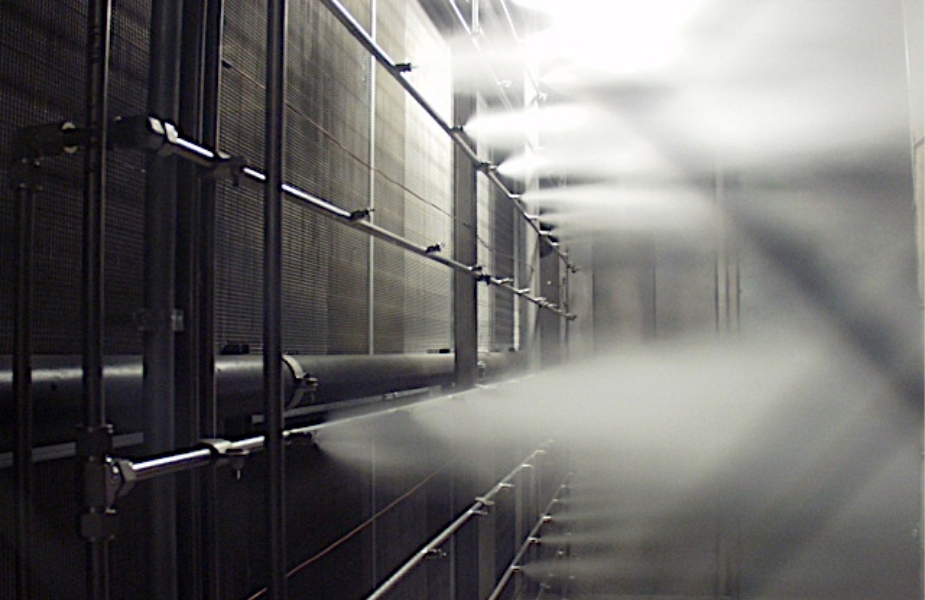 Iowa State University Gold LEED Chemistry Laboratory
MeeFog Humidifier Installation
Location: Ames, Iowa USA
Make-up air units: 4 x 60,000 CFM
Design target: 70 °F 30% RH
Mee's scope of work: Supply of fog pump skid, staging valves, nozzle manifolds, and mist eliminators. Supervision of installation and startup.
Humidification System Design:
Humidification capacity: 4,800 #/hr
Total horse power: 2 x 5 HP
Max. water flow: 14 gpm
Humidification stages: 15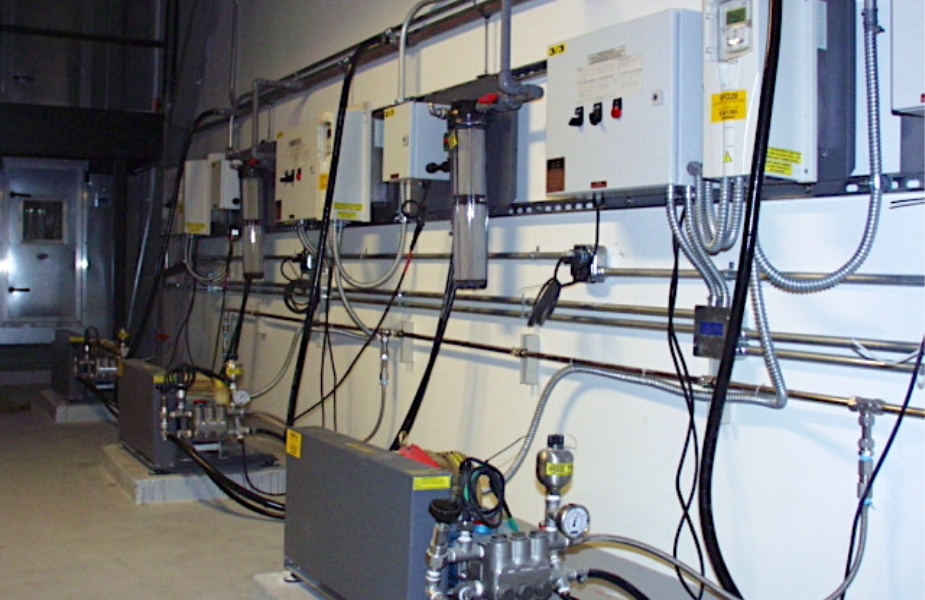 In 2011, ISU's Hach Hall became the first chemistry building in the country to achieve LEED Gold certification from the Green Building Council. Chemistry laboratory AHUs have high humidity loads, and because of the need to continually exhaust any fumes, they operate at 100% outside air driving up energy costs. The MeeFog system provides cost effective and efficient humidification to the laboratory.
MeeFog Nozzle
Each MeeFog impaction-pin nozzle is made from high-grade stainless steel. The standard nozzle features a 0.006 inch (150 micrometer) diameter orifice which produces billions of ultra-fine droplets per second. At an operating pressure of 2000 psi, the average droplet size is below 10 micrometers, or one tenth the diameter of a single strand of human hair. The resulting fog provides fast evaporation and amazing special effects.
Features:
High-grade, precision-machined type 316 stainless steel construction.
Super smooth orifice, low-pressure drop, 98% efficiency.
Cylinder type filter with radius end for efficient nozzle operation.
1/8″ NPT tapered fitting.
O-Ring seal at the base of the nozzle.
Other Case Studies

Sprawling campuses are requiring facility managers to be more efficient. Fog is a cost effective alternative to......