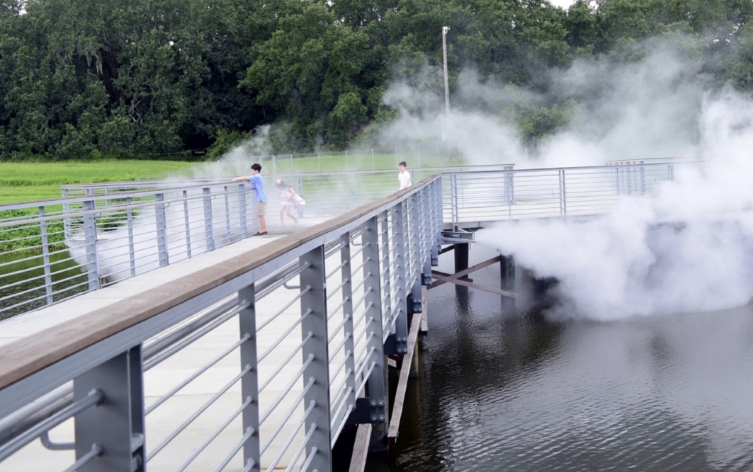 After more than 30 years on Julia Street in downtown New Orleans, the museum was relocated among the live oak trees of City Park. Meticulously designed to be a social, cultural and learning resource for children and families, the museum offers hands-on experiences for learning literacy, health and wellness, arts and culture, environmental education, and STEM.
The Challenge:
To create a memorable and interactive art piece, welcoming visitors crossing the museum's foot bridge.
The Solution:
The museum selected an artist to create a fog display. Using MeeFog, the artist was able to bring to life misty clouds that swirl around the bridge at the top of each hour and half hour.
The Installation:
Two MeeFog high pressure pumps, and a MeeFog reverse osmosis water treatment system were installed at the museum. The high pressure pumps direct pure water to an array of 452 nozzles, strategically placed around the bridge to create ever-changing fog drifts.
At the top of each hour, the fog display can be viewed from the foot bridge. The control system turns the fog on and off according to the display schedule. It begins with a low pressure setting, building momentum as the fog goes on. MeeFog systems offer artists and designers innovative aesthetic possibilities to create living and moving pure water fog effects. Fog adds dimension and impact to a design, and it can be used to highlight and accentuate landscape elements.
Mee Industries has a vision for the future that incorporates a firm commitment to quality through extensive research & development, innovative product design, and continual improvement.
Other Related Blog Articles